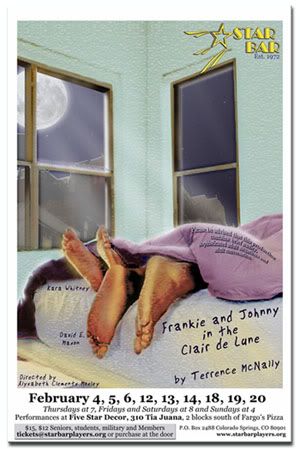 Frankie and Johnny in the Clair de Lune, by Terrence McNally
February 4 - 20, 2010
Terrence McNally explores the question of romance in this frank, quirky post-coital first-date interlude between two wary, weary veterans of the heart. They've already slept together; now they face the daunting prospect of intimacy. ''You just don't decide to fall in love with people out of the blue,'' says Frankie, but Johnny, a fast-talking short-order cook and diehard romantic, tenaciously disagrees. Star Bar luminary David E. Mason and stellar newcomer Kara Whitney heat up the stage this Valentine's Day.


Please be advised that this production contains brief nudity, sophisticated adult situations and adult conversation.
Production will be directed by Alysabeth Clements Mosley. More information at www.starbarplayers.org.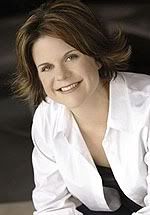 Kara Whitney (Frankie, 'Frankie and Johnny in the Clair de Lune', February 2010)
A Colorado Springs native, Kara recently moved back to town after living in Los Angeles and Seattle for over 15 years. She is thrilled to be making her Colorado theater debut with Star Bar in this amazing and challenging role. Some of Kara's past work and favorite characters include: Artie in Eleemosynary, Lainie in Two Rooms, Emma in The God of Hell, Ellen, Packer and Kramer in Vinegar Tom and Oenone in Phaedra. She thanks her family and friends for their love and support and promises her adorable pug, Snack, lots of treats for putting up with those long rehearsal nights alone on the couch.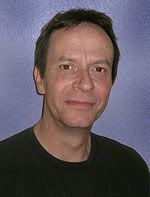 David E. Mason (Johnny, 'Frankie and Johnny in the Clair de Lune', February 2010)
David's last appearance on stage was three years ago in the SBP production of Night and Her Stars. Previously, David has appeared in many SBP shows over a twenty year span. Most notable roles include Jack Worthing in The Importance of Being Earnest, Louis Keseberg in Devour the Snow, Detective Blore in Ten Little Indians, multiple roles in Later Life and John Merrick in The Elephant Man.


David has also directed for the PPCC summer theatre program, designed lighting and was co-producer and appeared in the CAST/Smokebrush production of Twelve Angry Men.